If you were waiting for the moment to dust off your TIE Defender...it has arrived!
Imperial Aces
gives you two title cards, the TIE/x7 and the TIE/D which make the Defender not only a valuable asset but one that is going to be hard not to choose.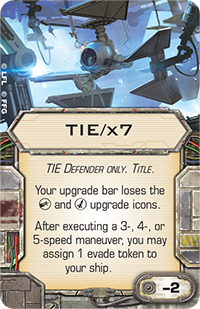 I'll take Twin Ion Engine Mk. II, Countess Ryad, Push the Limit and a box of Huggies (for my opponent). That's right, 10 green maneuvers to burn stress, green straight maneuvers 2-5 that you can swap out into green K-turns, 1 free evade for 3-5speed maneuvers. If that doesn't warm up your maneuvering thrusters...you get 2 actions every round! All this...while shaving 2 points off your TIE/x7 cost.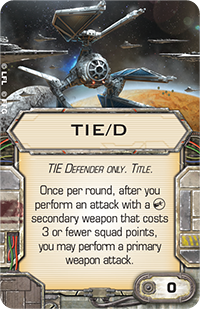 Want something a bit more brutal?
Say hello to the TIE/D,
two attacks per round
. Smack them with a Flechette Cannon, Ion Cannon or Tractor Beam...it really doesn't matter...you are still forcing them to choose when to burn their Evades or Focus. The Twin Ion Engine Mk. II mod and Push the Limit are still excellent choices for this title card.
Cardboard Dungeon does a great review of the entire box set...as if you needed more reason to buy the
Imperial Veterans Expansion Pack
!
Let me know what you think in the comments!