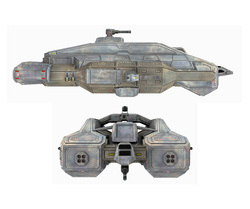 Tempest Raider

Silhouette: 4

Speed: 4

Handling: -2

Shields: 2 Fore, 1 Aft

Armor: 4

Hull Threshold: 26

System Strain Threshold: 20

Hull Type/Class: Assault Ship/Tempest Class Raider

Manufacturer: Hypertech Industries

Hyperdrive: Primary: Class 1, Backup: Class 12

Navicomputer: Yes

Sensor Range: Close

Ship's Compliment: One pilot, one co-pilot/navigator, four gunners

Encumbrance Capacity: 90

Passengers: 20

Consumables: Two months

Price/Rarity: 220,000 credits [R]/7

Customization Hard Points: 3

Weapons: One dorsal, ventral, starboard, and port turret mounted rendor cannon (Fire Arc All; Damage 6, Critical 4,
Range [Close]; Breach 2).

Under cockpit mounted twin light ion canons (Fire Arc Forward; Damage 5, Critical 4; Range [Close]; Ion, Linked 1).

Twin M-g-4 general-purpose warhead launchers, loaded with Ion Hammer Missiles (Fire Arc Forward; Damage 6,
Critical 4, Range [Close]; Ion, Guided 3, Limited Ammo 8, Slow Firing 1, Linked 1).

Notes: The Tempest was specifically designed for customs interdiction work as a competitor to the VT-49 Decimator. Politics and price points being what they are though KDY won the contract. What makes the story of the Tempest becomes really interesting when unknown parties posing as representatives of a host of systems placed orders for and took possession of more than 800 Tempests. When these very same Tempests began an unprecedented campaign of piracy the political fallout was devastating and swift. Even more damaging is that somehow outlaw techs got ahold of the full designs and have been producing their own variants for interested customers for the last three years. While Hypertech Industries ceased to exist, the legacy of the Tempest Raiders lives on.

The turret layout for the Tempest is superb, providing excellent fields of fire for the boat, only the ventral turret is partially constrained by the hull. The forward arc of a Tempest is without a doubt the deadliest, given that all four turrets, the ion cannons and whatever warhead payload is being carried can be brought to bear on a target.




All trademarks and copyrights are the property of The Walt Disney Company, LucasFilm Ltd. and Fantasy Flight Games. Artwork is the personal copyright of MacAttack001 (aka. John A. Schmidt) and may not be copied without permission.

This document is not intended for sale.

---