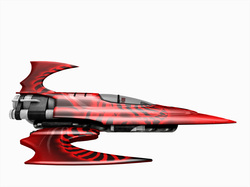 X-7 Stiletto

Silhouette: 3

Speed: 4

Handling: +2

Shields: 2 Fore

Armor: 3

Hull Threshold: 9

System Strain Threshold: 9

Hull Type/Class: Starfighter/Stiletto

Manufacturer: Event Horizon Unlimited

Hyperdrive: Primary: None

Navicomputer: None

Sensor Range: Close

Ship's Compliment: One pilot, EW officer

Consumables: One day

Price/Rarity: 86,000 credits [R]/9

Customization Hard Points: 3

Weapons: Dual Forward Mounted Medium Laser Cannons (Fire Arc Forward; Damage 6; Critical 3; Range [Close]; Linked 1).

Twin Forward Mounted Light Ion Cannons (Fire Arc Forward; Damage 5, Critical 4; Range [Close]; Ion, Linked 1).

Notes: The Stiletto is meant as a slightly more durable alternative to TIE/LN fighters, while not as fast or as maneuverable they do have shields, better armor, and an EW suite designed specifically to "spoof missiles". This system affects enemy missiles (Range Short) regardless of the target, allowing the Stiletto's to act as a missile screen for other ships.




All trademarks and copyrights are the property of The Walt Disney Company, LucasFilm Ltd. and Fantasy Flight Games. Artwork is the personal copyright of MacAttack001 (aka. John A. Schmidt) and may not be copied without permission.

This document is not intended for sale.

---