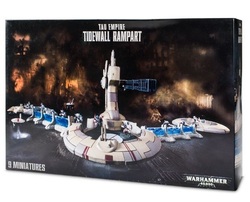 Normally I don't cover GW news, as a Tau player though I thought it would be ok to break the rule just this once. Right now I imagine lots of Tau players sobbing quietly that they didn't order the Tidewall Rampart soon enough.

Why?

This thing is a giant block of Velveeta cheese.

It can move up to 6", but everyone on it counts as stationary for firing.

Troops on it can reroll any 1's for shooting.

One model in the drone port can opt not to shoot and instead upload telemetry to the Tidewall Gunrig (i.e. Twin Linked Railguns) on one enemy unit. This increases the model firing the Gunrig ballistic skill by 1, they also get Tank Hunter and Monster Hunter! (Twin Linked Strength 10, AP 1).

With the Drone Rig you basically get a free unit of four drones (gun, marker, shield). While they are in the rig they cannot be targeted but can detach (even in the first round).

Tidewall Field Rule, whenever you make a cover save because of the wall (be it 4+ or 2+ save) the Tau player rolls one d6 (for every cover save they make) if they get a 6 the enemy unit that fired takes an automatic wound or a glancing hit.

For 265 points.