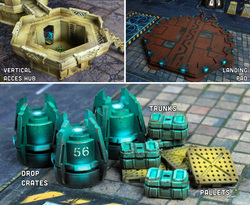 Death Ray Designs
is about halfway into their
Kickstarter
for Black Site X and Rapid Vanguard Terrain. For my fellow YouTubers you may know Austin as
Brush4Hire
. If you are not familiar with his website and products I would encourage you to check it out!
The Rapid Vanguard terrain line has that quintessential 40k feel to it, with the prerequisite skulls! Seriously though, his terrain has lots of raised surface details which make it standout as something more than a shoe box.
Black Site X is designed with Infinity in mind with its hexagonal buildings, functional stairs and bridges. Rest assured though it is capable of adding plenty of visual impact to any Sci-Fi skirmish game.
Austin has been around for about 4 years on YouTube with an established track record of providing quality service for his customers. I really like his two Alien lines of terrain (Necropolis & Space Elf) and believe that Black Site X and Rapid Vanguard are going to be great additions to his overall product line.
I hope that you will swing by and check out his
Kickstarter
,
YouTube channel
, and
website
!