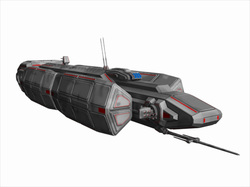 Javelin Freighter


Silhouette: 5

Speed: 3

Handling: -1

Shields: 1 Fore, 1 Port, 1 Starboard, 1 Aft

Armor: 5

Hull Threshold: 38

System Strain Threshold: 16

Hull Type/Class: Medium Freighter/Javelin JV-10

Manufacturer: Hypertech Industries

Hyperdrive: Primary: Class 3, Backup: Class 16

Navicomputer: Yes

Sensor Range: Medium

Ship's Compliment: One pilot, one co-pilot, one engineer, two gunners, one loadmaster

Encumbrance Capacity: 1000

Passengers: 12

Consumables: Four months

Price/Rarity: 190,000 credits [R]/6

Customization Hard Points: 4

Weapons: One dorsal and two forward turret mounted medium laser cannons (Fire Arc 1 all, 2 fore; Damage 6; Critical 3; Range [Close])


Notes: The Javelin is a relatively strong design for a medium freighter save for the glaring poor choice of weapon placements. Two thirds of the ship's weapons can only be brought to bear if the freighter is heading towards an enemy ship, something that sane freighter pilots avoid like the plague. She has neither the speed, maneuverability, shields or armor to remotely encourage a freighter captain to go for a joust.

In spite of that design flaw, Javelin's are well liked for the standardized external cargo pods, fast hyperdrives (for a medium freighter), decent handling, and an internal systems layout that facilitates easy maintenance. The first mod most owners go for is removing the two forward turrets and mounting one of them ventrally. Independent operators tend to have the copilot and the loadmaster man the turrets during a firefight...keeping the crew at much more profitable 4 instead of 6.


All trademarks and copyrights are the property of The Walt Disney Company, LucasFilm Ltd. and Fantasy Flight Games. Artwork is the personal copyright of MacAttack001 (aka. John A. Schmidt) and may not be copied without permission.

This document is not intended for sale.


---