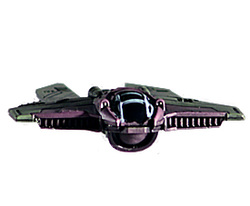 M3-A2 Heavy Interceptor

Silhouette: 3

Speed: 5

Handling: +2

Shields: 1 Fore, 1 Aft

Armor: 3

Hit Threshold: 6

System Strain Threshold: 8

Hull Type/Class: Starfighter/M3-A2 Heavy

Manufacturer: MandalMotors

Hyperdrive: None

Navicomputer: None

Sensor Range: Short

Ship's Compliment: One pilot

Passenger Capacity: None

Encumbrance Capacity: 2

Consumables: One day

Price/Rarity: 65,000 credits/5

Customization Hard Points: 0

Weapons: Forward mounted dual Rendor Cannon (Fire Arc Forward; Damage 6; Critical 4; Range [Close]; Breach 2)

Forward Mounted Proton Torpedo Launcher (Fire Arc Forward; Damage 8; Critical 2; Range [Short]; Breach 6, Blast 6, Guided 2, Limited Ammo 4, Slow Firing 1)

Notes: Removing the navicomputer and hyperdrive allowed the designers to add armor, improved thrusters, and a beefed up shield generator. The trade off is that these interceptors are relegated to planetary defense or carried aboard a capital ship and then deployed. Logistically the ship is an added burden however pilots have expressed enthusiasm at the beefed up defenses.

All trademarks and copyrights are the property of The Walt Disney Company, LucasFilm Ltd. and Fantasy Flight Games. Artwork is the personal copyright of MacAttack001 (aka. John A. Schmidt) and may not be copied without permission.

This document is not intended for sale.


---