A scenery piece doesn't have to be physically massive to visually command the game table...it need merely to stand out.
Tabletop World
understands this, so they incorporate a myriad of details to draw all eyes in...closer and closer...case in point the
Mansion
!
Obviously, it is no shrinking violet in terms of its overall size, 11.42 inches tall with a foot print of 7.87 inches by 6.9 inches. As it is comprised of resin it weighs a respectable 2.7 pounds with a price tag of $134.35 (at the current rate of exchange 1.14 Dollars to 1 Euro). Filling up a game table with terrain from Tabletop World is not going to be a casual gaming purchase for most of us.

Featuring a fully detailed interior, this piece encourages gaming inside as well.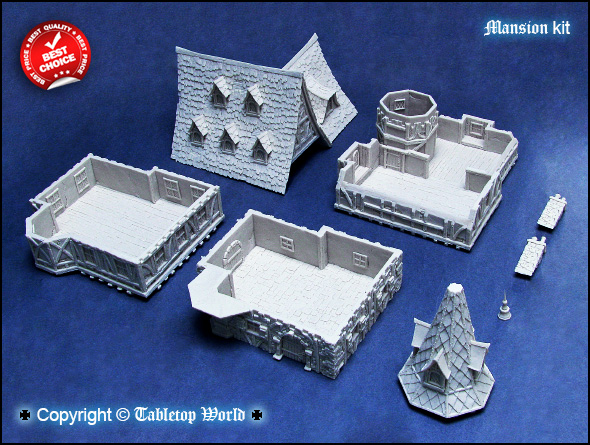 It would be good to remember that painting all of these intricate details is going to be a substantial investment in terms of time.

The one feature I wish we would see more of is registration holes for rare earth magnets or even dowels. to allow these multi-level pieces to go together and stay together more readily.