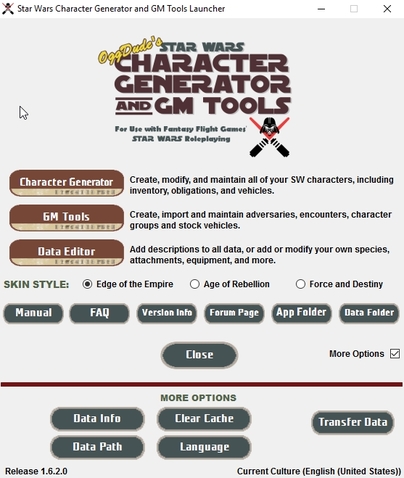 I have been using this Character Generator since 2013 and I have to say that is pretty much essential in running the game. Especially now that he has added on the GM Tools. With 309 pages (as of this article) of support on the FFG Community forum (
here
) it is incredibly well supported. The first page and post has a link for you to download the zip file.
OggDude deserves a lot of credit for putting so much effort into this program which makes running Star Wars much easier. Gentlemen like him are a huge boon to our hobby and I hope that FFG
acknowledges
just how much value his free program adds to the Star Wars Game! If you are a game company and you have individuals like OggDude supporting your products do yourself a favor and ship them comp copies of your product.
They are far more powerful than you can possibly imagine!