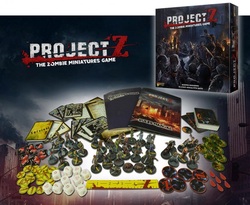 Warlord Games
is offering
Project Z: The Zombie Miniatures Game
for pre-order. Put in your pre-order before April 15th and get 10 extra Zombies!
Wait you don't know about Project Z???
"
Project Z is a skirmish wargame for 1 to 3 players taking control of Survivors or a Street Gang fighting to survive against the environment and an ever-growing horde of Zombies. Project Z is a fast and easy to learn game containing 39 detailed self-assembly plastic models, full colour rules, counters and specially designed cards and dice.

The starter set contains:

23 plastic Zombies.
10 plastic Male Survivors.
6 plastic Biker Gangers (inc. 2 motorbikes).
Plus full colour rules, Survivors guide, play cards, counters, and dice"