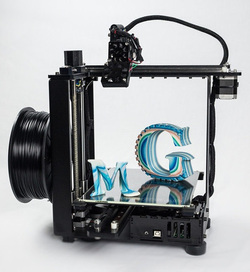 It is done, I have ordered my
MakerGear M2 3D printer
. If all goes well as of next week I should be printing out .stl files from Fat Dragon Games and Printable Scenery. In time I hope to be able to create my own files to print out custom objects.
I know this isn't necessarily really Gaming News. At the same point in time I don't think that this is Opinion either and I really don't want to make another page just for more personal news. So, I hope you will bear with me.
For all of you manufacturers out there...you should take to heart what I am going to tell you next. I just spent a significant chunk of change and I would say that
85%
of why I opted for the MakerGear M2 was because of
Greg_FL
YouTube MakerGear M2 videos. Manufacturers you need to seek out YouTubers like Greg that have parallel interests to your products and cultivate relationships with them. I promise you all that advertising budget you are dumping into pop up ads will not compare to having a handful of YouTubers that are passionate about your products! Right about now you are thinking that you simply don't have time or resources to commit to locating and cultivating such relationships. Yet if you look at your advertising budget for a year I bet you might just reconsider that.
I just wanted to give a
big thanks
to all my viewers that went ahead and supported the Indiegogo campaign for Winterdale 2! Final tally...$21,919 USD with 449 Backers, we got all the way up to the modular Graveyard!!!
In the weeks to come a
substantial
bit a of bandwidth on here and
my YouTube channel
(you are subscribed to it right?) is going to be devoted to 3D printed terrain including how to assemble, paint and finish these pieces. In addition to that, plans have been laid for
Frostgrave Fridays
. This series is going to cover starting out to play Frostgrave, building the required terrain and collecting/assembling/painting the miniatures. Once all that is done...actual Frostgrave battle reports.
Why
Frostgrave
?
First, it is 28mm fantasy skirmish wargame...reasonable to get into in terms of cost, not a vast amount of time needed to paint up a horde of miniatures. Terrain is going to take a bit more time but then again I don't really enjoy playing on God's Soccer Field style tables.
Second, the rules are very straight forward and don't require a PhD. This is a great game for new players and an entry point into the hobby.
Third, it is 28mm fantasy which means the miniatures and terrain can (and will) do double duty for fantasy RPG games.
Kickoff is going to be Friday the 18th and I hope you will check it out!