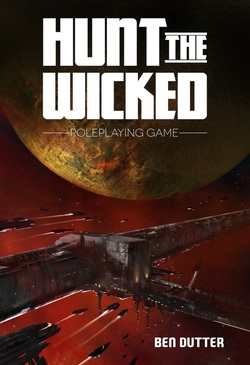 Sigil Stone Publishing
has released
Hunt The Wicked
, a roleplaying game where you are a bounty hunter tracking down the worst of the worst.
"
Three sentient species live under the terrifying rule of the Archon - an incomprehensibly powerful organism capable of consuming stars. All civilizations that have expanded beyond their system must face the Great Filter's crucible and be judged. Only three have been deemed fit to avoid extinction.As a Hunter, you've been entrusted with meting retribution upon the corrupt and the vile. Keep your guns loaded, your blades sharp, and your insight keen, or else risk the Archon's calamitous judgment upon us all.
Hunt the Wicked is a tabletop roleplaying game focusing on Bounty Hunters: peacekeepers, gunslingers, saviors, and assassins, the heroes and mercenaries that go after the bad guys. They're here to save the galaxy, and make a profit while doing it.
Inspired by
Blade Runner
,
Saga
,
Cowboy Bebop
,
Star Wars
,
Mass Effect
,
Guardians of the Galaxy
, Steve Perry's
Matador
series, and a whole heap of Westerns."
Check it out at
DriveThru RPG
!