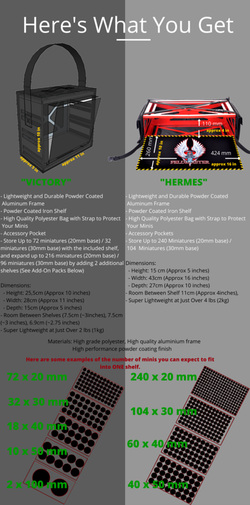 I just backed this
campaign
, for me the Victory with Add-On Kit 5...so let me make the case why you should too!
If you go to the page and you see that they are only 51% funded and have 11 days remaining on the campaign...you might think that they won't reach full funding. As such, you may pass on this campaign.
That would be a huge mistake!
You see this campaign is Flexible Funding, meaning that even if they don't reach their goal you still get what you ordered. I nearly missed this fact so I feel obligated to point it out.
Having watched the video I believe that this product is going to meet (if not exceed) my expectations. Personally...I have my own horror stories of miniatures that broke traveling and I have seen more than a couple instances that were gut wrenching.
One that sticks with me...I was at a game store during a 40k tournament, this guy had three spectacular Dark Angel Rhinos that were meticulously kitted out and beautifully painted. He was carrying them on top of a box with his miniatures. I offered to get the door for him but he declined. The door was heavy and as it swung closed behind him it hit him hard enough to send all three Rhinos flying. The blood curdling F-bomb he dropped... echoed through the night.
So, when I say, "lets end the off table carnage"...it really is not a joke.
EDIT:
So, I read this to my wife to see what she thinks and have her watch the video. She turns to me and asks, "What about my Wood Elves?"
That gentlemen is when you know that you married your perfect mate!
And yes, I am adding another case and another Add-On Kit 5. :-)