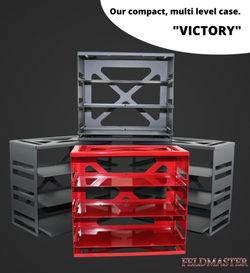 It is the final 5 days of the
Feldmaster campaign
on Indiegogo, which is 60% funded at this point. However, I have to emphasize that this campaign is Flexible Funding...meaning that even if they don't reach their goal that every backer WILL get what they ordered! While this is certainly good for backers it may not incentivize us (yes, I am a backer) to get the word out. We have our great deal so their isn't that sense of urgency as you see a great campaign fall short of its goal, knowing that you will lose out.
As such, here I am standing on my little soap box screaming at the top of my lungs about how great I think this product is.
Why?
The point of this website, especially the Gaming News section, is to shine a light on the non-established and smaller companies. Trying to be noticed when there are so many products clamoring for our money is incredibly tough! So when I find a product that deserves recognition I am glad to be able to highlight it. The Feldmaster is not just a
deserving product
...it is a product that I
NEED
which is why I have backed their campaign.
Do you play Infinity?
Do you cringe every time it comes to putting those delicate minis into the precut foam compartments of other carrying cases?
If you are a Nomad player (like myself) I am betting Bran do Castro and his tail causes a bit of sphincter clenching when it comes time to pack him up!
The Feldmaster is going to go a long ways to ensure that your minis get from point A to point B without becoming a casualty. Look, you have spent hour and hours assembling and paint these miniatures not to mention the financial expense of them in the first place *cough* Games Workshop *cough*. Protect your investment, get a Feldmaster carry case!