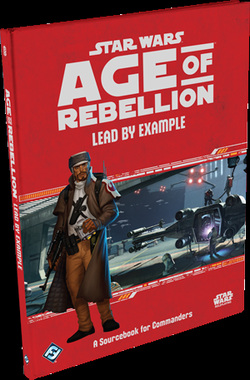 You have put in your time, done everything that your leaders asked of you, now you have been offered a chair at the table. Are you ready to
Lead By Example
? Well,
Fantasy Flight Games
certainly hopes so because they have released this 96 page career supplement. It comes with three new Command specializations, species, gear and vehicles!
This supplement doesn't simply throw you into the deep end of the pool, be you player or GM. There are rules and helpful hints on how to handle Mass Combat in various phases of the unfolding battle. This may sound simple enough, however as any seasoned GM knows, few adventures survive contact with the players intact.
So, let me know what you think of Lead By Example!