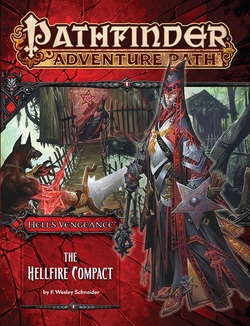 There are times when the cloak of darkness has an allure all its own...and I am not talking about night.
The Hellfire Compact
is the first of the Hell's Vengeance Adventure Path for the Pathfinder RPG. This time out, you take the role of...shall we say...morally flexible (i.e. evil) characters in the diabolical empire of Cheliax. Turns out some self-righteous types are stirring the pot in the town of Longacre and it falls to you and your companions to deal with the situation before it gets out of hand.
This is an adventure for 1st-level characters.
Includes a gazetteer of Longacre, details of the Glorious Reclamation, and a bestiary of new monsters!
Available February 24th.