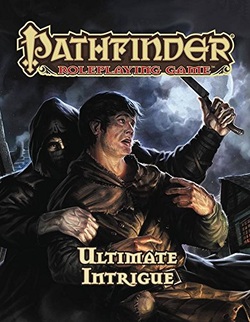 Available now for
pre-order
(print version due to be released April 12th, while the PDF is out March 23rd),
Ultimate Intrigue
! A 256 page hard cover treatise on the shadowy world of intrigue and the duel of words. So what can you expect to find within tome?
"
Ultimate Intrigue also introduces a new Pathfinder RPG class: the vigilante. Influential socialite by day, avenging warrior by night, the vigilante is ready for anything, but he must take care to ensure that no one learns about his secret life!

Ultimate Intrigue includes:
• The vigilante, a new character class that lives two lives, one as a respected member of the community, another as a crusader willing to do anything to get the job done.
• Character options for every class that relies on skills to win the day, including the alchemist, bard, druid, hunter, inquisitor, investigator, mesmerist, ranger, rogue, slayer, spiritualist, and more!
• A complete system of influence, giving the GM a new way to reward players for helping out an organization or community.
• Rules for social combat and verbal dueling, using words as weapons to accomplish goals and defeat foes.
• Dozens of feats and spells that can be used in a social setting, some to spy with and some to hide the truth.
• …and much, much more
!"
Given the eloquent design of the Intrigue system within
A Song of Ice and Fire RPG
it will be interesting to see how it is tackled by
Paizo Publishing
.
I would like to know if you are planning on implementing these rules in your game or has Pathfinder reached a bloat point where you are content to use the rules that are currently available?