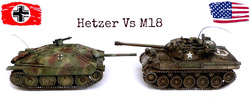 Warlord Games has posted up an article
(Head to Head
) comparing the Hetzer vs. Hellcat, two tank destroyers.
My take goes like this, the Hellcat is a speed demon a trait that is
not
exploitable in Bolt Action. While some will argue this is made up by the point cost for the Hellcat, IMHO it is not equivalent. Armed with the respectable but not astonishing 76mm main gun, open topped with a Browning M2HB HMG it is a decent vehicle to add to your American force.
The Hetzer has a very low profile, is
not
open topped, armed with the 7.5cm Pak 39, this deadly gun could and did destroy the vast majority of Allied tanks it encountered out to 1000 meters. The addition of a remotely fired MG34 with 360 degree traverse...well it would seem that this competition would go to the Hetzer hands down. Two main points historically, the Pak 39 had to be mounted on its side to fit in the small chassis...which made loading awkward. Secondly and far more important it didn't have a turret which ultimately put it at a disadvantage against the tanks it was hunting. In terms of Bolt Action the Hetzer with a Regular crew is attractively priced at 210 points.