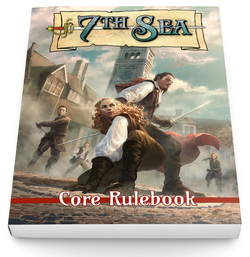 In a matter of mere minutes John Wick saw his
7th Sea Kickstarter
funded. Having read through his spiel I have watched the pledges go up nearly $15,000...and I am not a slow reader. The Pirate Nations has just been unlocked as I was writing this.
If you are a backer you get access right now to the Quick Start Download Link.
"
7th Sea is a tabletop roleplaying game of swashbuckling and intrigue, exploration and adventure, taking place on the continent of Théah, a land of magic and mystery inspired by our own Europe. Players take the roles of heroes thrown into global conspiracies and sinister plots, exploring ancient ruins of a race long vanished and protecting the rightful kings and queens of Théah from murderous villains
."
"
In most roleplaying games, you start off as a 1st-level loser who's terrified of the goblin with a broken knife. In 7th Sea, you are a Hero, an icon of Théah ready to live and die for causes that matter. You can take on ten thugs with swords, knives, and guns all on your own. You don't start off digging through old dungeons hoping to find a copper piece or two. No! You are trusted knight, a loyal bodyguard, or even… an adventuring queen herself. Right from minute one.

In other words… you're d'Artagnan, Milady de Winter, the Dread Pirate Roberts, Jack Sparrow, Julie d'Aubigney, and the Scarlet Pimpernel all rolled up in one!

This is a game of high adventure, mystery, and action.

This is a game of intrigue and romance
.
This is 7th Sea
."
It will be interesting to see what new stretch goals John Wick puts up.