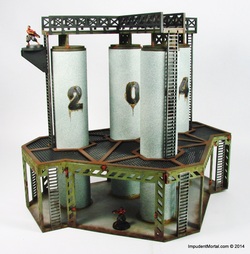 If you are looking for a vantage point to locate your snipers,
Impudent Mortal
says that they got the perfect spot, atop their
Industrial Storage Tanks
. They have a sizable footprint at 14 x 10 inch and stand 12 inches tall. With three ladders you are going to have plenty of chances to climb into position.
At 12 inches this building is right on the edge of being too tall, at least in regards to Infinity. Personally I prefer buildings that are 8 to 9 inches tall, so that my units that have Climbing Plus (and a 6-4 move) can fully get to the top with a single order. This doesn't preclude me from recommending this piece of scenery, just a reminder that it is going to take a couple of orders to get to the top.
It is a good looking piece of scenery though and should add some visual impact to your table.