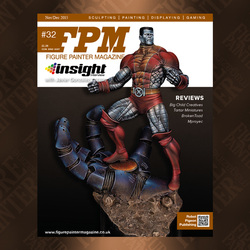 Well the weather is definitely on the "stay indoors" side of things and the best tv shows are either done or on their midseason break. So what does that mean?
It means it is time to paint some miniatures!
Which is a fortunate thing seeing how the latest issue of
Figure Painting Magazine
is available. Now, it isn't free but it is so reasonably priced that it isn't going to strain your wallet. How reasonable is it?
It is £1.30 or S1.89 in US currency. You can't even buy a pot of GW paint for that! This issue (#32) clocks in at a 144 pages with an interview of Javier Gonzalez Lozano and Andrew Argent...plus a great deal more!