They say that artillery is the King of Battle, if that is true, then allow me to introduce you to the Crown Prince of WW2.
Warlord Games
is offering the
M7 HMC Priest
for pre-order. The 105mm Self-Propelled Artillery piece was a key player in both the European and Pacific Theaters for the U.S. and some were used by the British. Armed with a M1A2 105mm howitzer and a M2 (Ma Deuce) .50 HMG the American Locomotive Company (ALCO) produced 2,814 of these self propelled guns. It's nickname, Priest came from the British and is due to the pulpit-like drum cupola mounting for the .50 caliber HMG.
If you happen to be feeling the need for some heavy fire support or perhaps you are simply a fan of this big beast you will be able to add it to your British or U.S. forces in short order!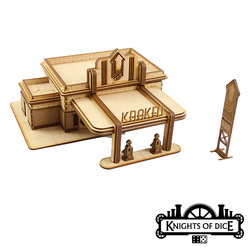 Viv over at
Knights of Dice
is still busy at it, this time with
Kraken Petroleum
. The last gas station at the end of the world.
Having grown up in the western U.S. there is a bit of nostalgia with this particular piece of scenery. From buying a 15 cent cream soda to the station attendant washing the windows as he filled up the gas tank at 50 cents a gallon.
This gorgeous piece of terrain boasts a sizable footprint at 12.6 by 13 inches, with a height of 6.3 inches to the top of the sign. The detailing is up to par with the rest of the scenery that Knight of Dice produces. Priced at $48 Australian Dollars (or $33 US) it should be a good seller, especially with lower shipping costs these days.