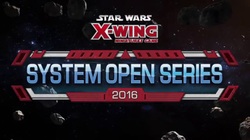 I hear that you play X-Wing and think that you might be a contender?
Well you are in luck because
Fantasy Flight Games
has just announced that the
X-Wing System Open Series 2016
. It runs from March 31st through June with eight tournaments in eight nations. The final eight get transportation, hotel accommodations and entry in the Coruscant Invitational in London, England! That just happens to also be during the sold-out Star Wars Celebration taking place there!
First up we have Hoth, taking place at Schaumburg, IL (March 31st - April 3rd)...better known as
AdeptiCon
! It starts off with two qualifier heats on Thursday & Friday...make it count because you can participate one day...
not both
. Those lucky few accumulating 18 or more tournament points on either day will advance to the Star Wars: X-Wing Hoth Open Finals on Saturday. Just don't show up though! Be sure to
read
the Open Briefing rules
HERE
!
Naboo, Copenhagen, Denmark (June 11th to June 12th)
Lothal, Stuttgart, Germany (June 25th to June 26th)
Tatooine, Madrid, Spain (June 11th to June 12th)
Kashyyyk, Italy (June 18th to June 19th)
Endor, Warsaw, Poland (April 30th to May 2nd)
Jakku, Cusset, France (April 30th to May 1st)
Yavin, Birmingham, United Kingdom (June 3rd to June 5th)
May the Force be with you!