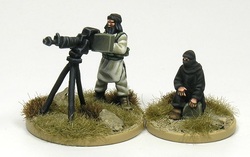 So I normally tell you about products and companies that I stumble across...today I am going to switch that around. Today, I would like your help in learning more about this company and their products.
At present Khurasan Miniatures is
closed
as (he/she/they?) try to catch up on back orders. Their
facebook
page in the About section has a short description...
"Khurasan Miniatures, retailer of wargames miniature figurines and models"
I believe that they do some 15mm vehicles, however these Middle Eastern fighters and US Infantry don't look like 15's or if they are...wow! The company is not based in the US, and they have a link on their
Facebook
page to request an address or phone number.
I am understandably intrigued and would like to know more, so what can you tell me about the company and their products?
You can leave your comments below or email me at mac@macattack001.com.
Thanks!