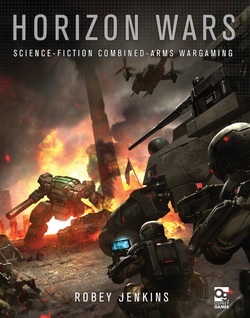 Due to be published April 20th, is
Horizon Wars
, a 6mm hard science-fiction wargame by
Osprey Publishing
. Perhaps, designed for those of us who may have collected vast armies of teeny tiny miniatures
*cough* Epic 40k *cough*
but no longer have a supported game system. (I am not bitter...I just type that way.)
Their copy reads thusly...
"Beyond today's horizons lie uncountable wars still to be fought by mankind - on battlefields, against foes, and with weapons that can only be imagined. With Horizon Wars, wargamers can bring these future conflicts to the tabletop, no matter their exact vision of the future of warfare. Combining the feel of real-world combat and tactics with versatile and quick-to-learn rules, Horizon Wars is a 6mm company-level game that incorporates ground forces, aircraft and the titans of the battlefield - mechs. Whether you want to pit a handful of mechs against each other in quick clash of patrols, or line up combined-arms forces for a huge battle, the game remains fast-moving and enjoyable. Also included are full rules for building units from the ground up, allowing players to tailor their forces to suit the mission objectives or their figure collections."
Coming in at 96 pages, written by Robey Jenkins, illustrated by Jessada Sutthi it may very well be the game system you are looking for.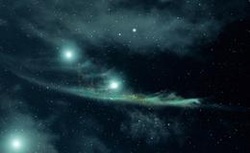 So we have been playing a bit of X-Wing and are prepping to do some Armada as well. One of the things that is a pain has been "the slip" and far worse the accidental bowling for X-Wings. Remembering that I did a blurb on
War Mats
a while back I decided to order one of the 3x6 mats as they are currently on sale for
$30 off!
As soon as it gets here I will put together a video review of their product and post it over in the X-Wing section.
Stay tuned!