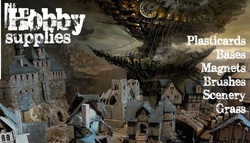 Pinterest is dangerous! Not from the perspective that it will do you actual physical harm but from my experience it can be a vast temporal black hole. I promise myself, only going to log on and add a few pins...next thing I know it is half way through the morning and I am behind the 8ball yet again. If it wasn't such a damn gold mine I suppose that it wouldn't be a problem.
That gold mine revealed to me an incredible nugget,
Green Stuff World
. This store is full of amazing products that are aimed at gamers like you and me! I have already placed an order for some of their products and look forward to letting you know just how they work out!
I would also like to shamelessly pimp a couple of my Pinterest boards as well...
Miniature Scenery
...2,400 hundred pins of inspiration, materials, tools, tutorials!
Miniature Terrain Inspiration
...reference pics for design and painting your miniature terrain projects!
Miniatures
...nearly a thousand pins of some of super cool painted minis!
Just For Laughs
...laughter is the best medicine!