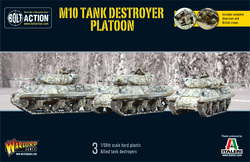 Warlord Games
is offering for pre-order the
M10 Tank Destroyer Platoon
for their 28mm WW2 game...Bolt Action. This all plastic set of M10's is sure to give your Americans or British an extra bit of anti-tank firepower with it's 3-inch (76.2mm) gun. You can use them as either British or US, as they come with the crews for both. Free French wore US army uniforms just with French insignia.
Just remember it is a bit of a glass cannon, when it comes to incoming German rounds. The open topped turret was another design deficiency, allowing for that one lucky grenade toss to ruin the crew's day. An unfortunate trait that all fully tracked US tank destroyers shared. Not nearly as fast as the M18 Hellcat it did have thicker armor overall.
In spite of any deficiencies, the M10 was produced in significant numbers, 4,993 by GM from September 1942 to December 1943. The British were supplied 1,654 M10's, with more than a thousand converted to use the British 17-pdr. gun.