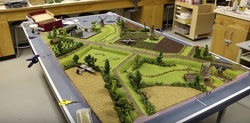 Shawn Morris
is a terrain builder and wargamer with a passion for Flames of War (15mm WW2) and he has a YouTube channel stuffed full of videos. A few things makes Shawn's channel stand out for me and might make it of interest for you as well.
First, his attention to detail is truly impressive. When you are working at that scale detail work becomes tedious and time consuming. Time and again Shawn is able to incorporate detail and retain a board that is playable.
Second, his boards are modular, in that they are designed to be taken apart for storage and transport. Modular boards with tight tolerances that do not have massive gaps are tough to do at any scale. Personally, I have built a variety of demo tables for game companies over the years and I prefer a static board to modular whenever I can get away with it. Static tables are simply four to five time simpler even when you factor in the cost of building a large shipping crate for a 4x6 table.
Third, historical accuracy is not easy yet it is another hallmark of Shawn's terrain work. When you have a passion for the subject/work it always shows through in the finished result. Of the terrain makers that I know about Shawn Morris is well placed in the top tier of the "Dirty Dozen."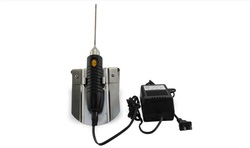 Woodland Scenics
has released a new foam cutting tool, the
Hot Stick
! It is a stainless steel cutting tool that takes about a minute to reach cutting temp. It includes the...
Hot Stick Tool (6 inches long rod)
Power Supply (110VAC, 45 watts w/ 9 foot cord
Guide
Table Mount
This is yet another foam cutting tool that I am interested in picking up to see how it works.