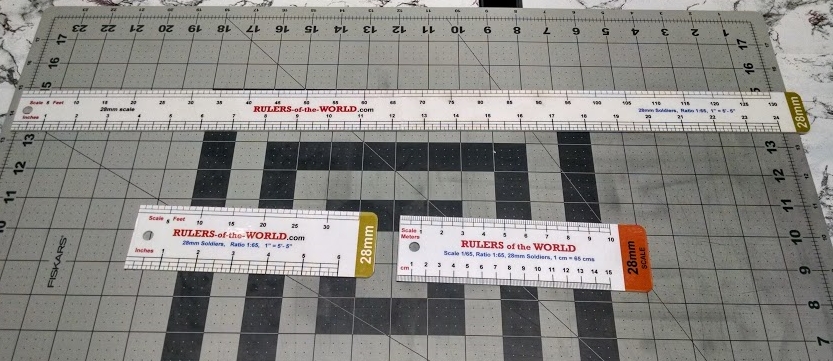 So, my order of the scale rulers, from
Rulers of the World
, showed up and now I can give a short review of them.
The first question you have to answer is are they accurate?
As far as the 1 to 1 ruler, yes all three are accurate when compared to my machinist ruler.
When you look at the Navy SEAL miniature you can see that it is just a couple of hairs over 6 feet tall. That measurement is not accounting for the bit of metal base it is standing on. While the PanO Infinity figure comes in at 8 feet tall...much thicker base and the Infinity figures are ranging closer to 30mm IMHO.

They come with a clearly legible finish, thick plastic (although still flexible), and do precisely what you need them to do...allow scenery builders to go between 1:1 and 1:65 (in this case) measurements. I can see these rulers having a prominent role in my shop and feel that they were an excellent value. The highest praise I can give any vendor/manufacturer is this...I am going to order additional product from them.

Rulers of the World has more than 200 scales at present and if by chance you need a scale that they don't have, they will make it for you. With a minimum order of five rulers though.