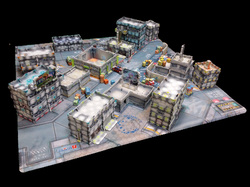 Micro Arts Studio
has put together a rather substantial setup,
Infinity Table Street set 1
. If you are looking for a one stop terrain set to cover your 4 x 4 game table this is one of the easiest routes to go. Micro Art Studio has a long history of producing terrain for Infinity, as they were the very first company to get a license to do so. That means they have an established record so players can expect a high level of quality.
With a rather significant price tag (500 Euros or 543 US Dollars) what all do you get with this set?
Infinity Holo Ads Upgrade Set (1) x1
Infinity Holo Ads (3) x1
District-5 Apartment (1) x1
District-5 Garage (1) x4
District-5 Objective Room (1) x4
District-5 L Apartment (1) x2
District-5 Guard House (1) x3
Crovane SUV (1) x1
Info Hub (1) x3
Waste Bins (2) x1
Tech Crates #1 (6) x1
Large Tech Crates #1 (2) x1
Road Barriers (6) x1
Concrete Wall Set 2 (9) x1
Cargo Crates set 2 (3) x4
Cargo Crates set 1 (2) x4
War Game Mat - 48x48 inch x1
With a value of more 600 Euros and free shipping it certainly is an option for quickly taking care of your terrain requirements.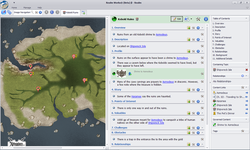 Realm Works
, from
Lone Wolf Development
, has inked a deal with
Paizo Publishing
for Pathfinder RPG content to be available.
The official press release talks about...
"partnership with Paizo Inc. to produce and sell Adventure Paths, modules, campaign settings, player companions, and rulebooks from Paizo's popular Pathfinder Roleplaying Game™ product line through their campaign management software – Realm Works.
"Realm Works is the ideal vehicle for Pathfinder's richly detailed rules and world," said Rob Bowes. "With Realm Works, it's all woven together and ready to run, streamlining session prep and enhancing the actual play experience. Best of all, everything is fully customizable to any GM's game."
Launching the first quarter of 2016, the Realm Works Content Market will initially include popular Adventure Paths and modules. Rulebooks, setting material, and additional Pathfinder products will be introduced over time.
Starting mid-December, Lone Wolf Development will launch the "Realm Works Spotlight Series," which will outline the Content Market release plan, showcase Pathfinder and other products in Realm Works, and preview key Realm Works features. New Spotlight entries will debut weekly in the lead up to the Realm Works Content Market release. Pathfinder fans can
sign-up to receive notifications
about the Spotlight Series and the latest news about the Content Market release, or check for updates on
www.GetRealmWorks.com
."