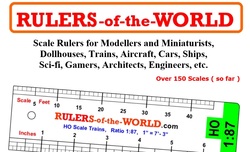 As a terrain builder I am constantly converting measurements to various scales. Wouldn't it be nice if you had a ruler which would do that for you?
Rulers-of-the-World
has you covered with more than 200 different scales in both metric and imperial.
They offer rulers in 7 inch, 13 inch, 25 inch lengths, all of them in white plastic. It should be noted that they also do custom rulers, with a minimum order of 5 rulers.
This is the sort of product that I have been desiring for some time, so I went ahead and ordered a 7 inch and 25 inch rulers. Seeing that they are just down the road from me I hope to have them shortly so I will report back my thoughts on them.

Spartan Games
has a line of
accessories
that ranks up there as one of my favorites. So much so I have purchased all of them, although I have yet to get to the point of assembling and painting them up.
All of them are resin cast pieces with excellent details and very few imperfections. These pieces may not be officially for Infinity, however they are a perfect fit and are a great way to add scatter terrain to your table. If you are in the U.S. and your FLGS doesn't carry Spartan Scenics you can see if
The Warstore
has them in.