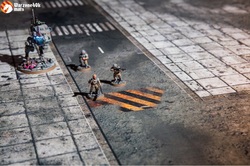 Warzone40K.com
has released their
Concrete 72" x 48"
gaming mat. Available in either PVC or cloth, with a special print quality of (720 DPI). In addition they can place any hex or grid that you might require on the mats.
If you haven't heard of Warzone40K before swing by their website and checkout the considerable range of gaming mats that they have available.

One of the questions that I get most frequently is what do you use to cast
Hirst Arts
blocks and where do you get it from?
I have been using Excaliber dental plaster, which has an 18,000 psi and a 0.09% expansion in the white color. I stay clear of the gray as it has bubble issues. However, recently I picked up a box of Merlin's Magic and will be giving that a thorough testing. It has a 14,000 psi with a 0.06% expansion. There seems to be a consensus that Merlin's Magic is easier to work with and it has been more than a decade since I originally gave it a try.
Where do I get it from?
Only one place,
Clint Sales and Mfg.
for nearly 15 years I have done business with them and they have -never- let me down. Not only is their prices on dental plaster one of the best out there, they have always had the best rates when it comes to shipping. When you are buying 50 pound boxes of dental plaster that means something. Having cast more than a ton (yes...literally more than 2,000 lbs.) of Hirst Arts blocks I appreciate prompt service, consistent quality plaster, and reasonable prices.