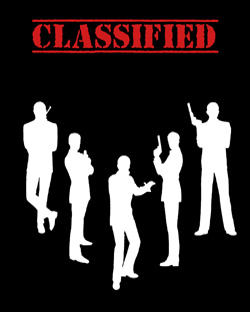 No, not the Classifieds...
Classified
the retro-clone of the 1980's role-playing game about the world's most-famous spy. Yes, Joseph Browning over at
Expeditious Retreat Press
has recreated the James Bond 007 RPG, without James. Still, he has brought the game up to date for current vehicles, weapons, and gear.
I just picked up a PDF copy and gave it a thorough read through and am compelled to say it is captures the essence of the original. You can even purchase a print version from
Lulu
. As soon as I get my copy from Lulu I will give a full review of the product.
Let me know in the comments if you would like to see some fan content for this game on the site!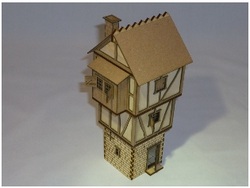 Things From The Basement
has released a new line of terrain
Buildings On A Budget
. These laser cut buildings use birch plywood and chipboard with accessible interiors. Instructions are available for download
here
!
Looking at these buildings I am seeing a lot of potential, especially when it comes to the roofs. You could use the a number of the
Roof Molds
(i.e. clay tile, wood shingle or slate shingle molds) available from
Hirst Arts
. If those don't peak your interest perhaps the
O-Scale Weathered Gray Shakes
from
Scenic Express
? Of course you could certainly keep it old school and simply cut out your own shingles...
method one
,
method two
, or
thatching
.
These are great looking buildings and with all of the bits you can get at places like
Thomarillion
you can create some truly stunning scenery while staying within your budget!