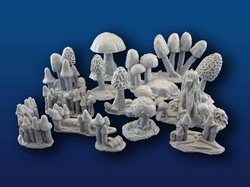 Acheson Creations
has released their
Mushroom Forest
, a set of 14 different types of mushrooms. These 28mm scale mushrooms are the perfect scatter terrain for your fantasy gaming needs. They also afford you the opportunity to inject an array of color into your gaming board.
I have included some images to give you an idea of just how varied they are in reality...without even delving into the possibility of fantasy!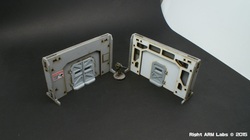 Right Arm Labs
has introduced a considerable array of buildings for your 28mm scale gaming needs. While squarely aimed at the Infinity gaming sector there is little doubt that they could be utilized in a variety of near future or sci-fi games.
Their designs offer a level of detail that goes far beyond simply laser engraving on the surface. They bring an entirely deeper level of intricacy through the use of layers.