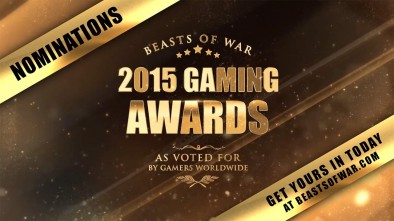 Beasts of War have the 2015 Gaming Awards:
Nominations Phase
is now open! Covering game materials released from 1st December 2014 to 30th November 2015. The categories include...
Best Miniature Game
Best Board/Card Game
Best Game Expansion
Best Gaming Artwork
Best Gaming Accessory
Best Terrain Product
Best Paint Job
Best Model Kit
Don't miss out on your chance to help shape the 2015 Gaming Awards!