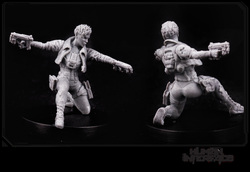 Good news, even though the Kickstarter is over for
Human Interface - Nakamura Tower (HINT)
, you can still do a
Kickstarter Late Pledge
! You will get it with all of the same stretch goals as regular pledges. This includes everything up to and including Black Stone Operator 'Akira'.
What is HINT?
"In HINT you will lead a team of selected professionals of a given faction. Each of them has unique skills and abilities, each one can be given weapons and other equipment, be enhanced genetically or cybernetically. All characteristics and modifiers are presented on special character and equipment cards (you don't need to constantly flick through the rulebook). Each character card has a limited amount of slots that can be filled with equipment and modifications. The player can purchase additional equipment to replace the current item depending on the "group's assets". A short bio of each protagonist is another interesting addition that will allow the player to identify themselves with the characters. You may like them or hate them but they will no longer be just anonymous pawns."
"Game mechanics are fairly easy as we wanted to achieve a perfect balance between a fun game and rules that enable a lot of tactical possibilities. The basic rules are easy to learn but the possibilities of their use grow significantly in combination with the characters' skills and capabilities of equipment. The characters do not have predefined characteristics (like attack, defense, intelligence etc.). We assume that such professionals will always hit a stationary target while shooting from a standing position. The characters are defined by their basic physical and mental abilities and modifiers, which make it easier or more difficult to perform some tasks, that make them unique. These modifiers result from their skills, special training or cyberations and other equipment. At the moment we can say that the rules do not use any dice and the testing mechanics are based on cards that we call CanDo. The description on the card, its value and color influence the final result of the test. The numerical value also states the location of a hit and additional effects connected to it."
Shirley 'Crazy' Stone and the Motoshige drone are headed off to the foundry, which wraps up miniature design work.
Also a weapon mount has been designed for the drones, allowing them to use all of the optional weapons on both.