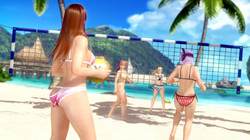 This is one of those articles that straddles the line between news and opinion.

The news is that Dead or Alive Xtreme 3 will NOT be released in the West, be it Europe or the United States. This decision is not the result of any technical issues but the unabated assault by a certain vocal minority within the gaming community.

"We do not bring DOAX3 to the west and won't have any plan change in the future," according to their (Koei Tecmo) Facebook page.

Does this inconvenience me in any way shape or form?

No. I have no interest in the game whatsoever. In the same fashion that I have no interest in the Grand Theft Auto series. This lack of interest is not born out of a sense of Political Correctness or even a prudish disgust at that material...the games simply hold no interest for me.

What does trouble me greatly is the entire concept that a few individuals are dictating what is or is NOT acceptable art. Think about that idea, art that is NOT appropriate. The concept that art is no longer meant to challenge established views, be radical or prompt discussions is absolutely mind boggling to me.

While some may claim that Dead or Alive Xtreme 3 is not art and that it is blatant vulgar misogyny, there is a terrible danger in believing that only your opinion of what is and is not art counts. That absolute stance is where censorship begins and we have plenty of historical precedence to see where it leads. Let us be completely honest though and call this what it really is all about...CENSORSHIP.

Let's strip away the negative labels and focus on the perceived harm. Companies are producing games that some people find offensive and they say leads to wide spread harm of the social fabric.

Worldwide violence and crime is on the decline in developed nations. If these video games are such a threat to the very social and moral fabric of our society wouldn't we see dramatic increases given the prevalence of video games in developed countries?

So the real harm comes down to that somebody is offended.

As a citizen of the United States I can tell you with absolute certainty that no where in the U.S. Constitution or Bill of Rights will you find the right NOT to be offended. It would seem that being offended is not universally harmful though. I didn't see Catholics calling out the Spanish Inquisition or doxing the artist responsible for Piss Christ. Yet, I have it on good authority that they were deeply offended by that particular work of art.

Where were the SJWs during that controversy?

If they truly believe that being offended is such a great harm to society surely that would have warranted at least a bit of outrage. Perhaps...it would be more intellectually honest to say that they are fine with offending those that they do not agree with. For the record, I am agnostic, a reformed Atheist because they have a segment that are just too obnoxious to be affiliated with.

If we dispense with the pretext that they want to have an intellectually honest discussion and that this is really about cyber bullies trying to censor material that they are offended by, their tactics are apparent. They resort to actively destroying the personal and professional lives of those that disagree with them as a warning to ALL who would openly defy them. Certainly the 21st century equivalent of the Committee of Public Safety would have learned the lessons of their 18th century counterpart. Such witch hunts never end well...

All of you delicate snowflakes (aka cyber bullies) who believe that words hurt (be it ideas/art/music), with your safe spaces (replete with coloring books, milk and cookies like at Colombia University), microaggressions and trigger words...please do the rest of us a favor.

GROW THE FUCK UP!