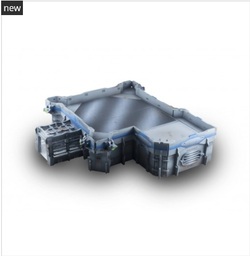 Zen Terrain
has just released their latest building, the
Police Station
. This comes in two varieties with (
€
56.76 or $60.42) and without interior (€40.54 or $43.16). This building has a pretty sizable footprint, you can fit a HAB1 on top of it. With a height of 82mm (3.2 inches), 312mm length (12.3 inches), and 308mm (12.1 inches) wide it is going to take up some real estate on your game table.
Comprised of 3mm HDF with acrylic elements, my experience is that wood glue and superglue are going to get this type of building assembled. They indicate that in terms of complexity it is a medium to hard build.
Having dealt with Zen Terrain on a number of occasions they have always delivered great products that went together with a minimum of fuss. Combine that with the current exchange rate for euros to U.S. dollars now may be your best time to stock up on their terrain!