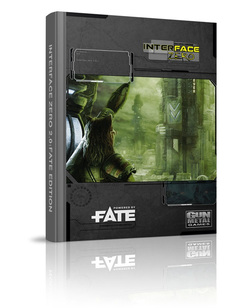 With on 16 days to go
Interface Zero: Fate Edition
(by David Jarvis/
Gun Metal Games
) is just shy of the halfway mark for being fully funded.
What is Interface Zero?
"Like it says in the short description at the top, IZ (that's short for Interface Zero) is a
sci-fi/cyberpunk
game set on Earth in the year 2090. This version of Interface Zero 2.0 is powered by the
Fate
game system, published by Evil Hat Productions
In this dark and grimy world of corrupt, power-mad governments, greedy Mega-corporations and fringe science-gone-wild, you play Ronin: rogue street operatives who make their living doing the things nobody else can, or will, do. You have no master, no loyalties beyond your bank balance. Your only friends are those of convenience. Your tools of the trade are computer code, high-powered weapons, combat drones, cybernetic augmentations, mental powers and maybe even a little bit of luck.
In 2090, the line between human and non-human has blurred to the point where the word "human" is little more than an abstract concept.Fully-sapient androids walk the streets alongside vat-grown simulated bio-forms. These bio-forms are known as simulacra, or "sims" for short. The science of hybridization allows anyone with enough cash or credit to splice her DNA with anything from a beetle to a rhino. The human genome has been hacked; rewritten to suit the latest fashion trends.
Technology has increased to the point where we can augment our bodies with cybernetic implants, or even completely replace body parts. Most of these, such as the Tendril Access Processor, help us in our daily lives. Of course, there are other reasons to get "cybered," omae. If you want to stay at the top of the food chain, if you want to get the best jobs the mean streets have to offer, you need an edge. Cyberware gives you that edge
."
If you are a fan of Fate and the cyberpunk genre then this maybe the game that you are looking for!