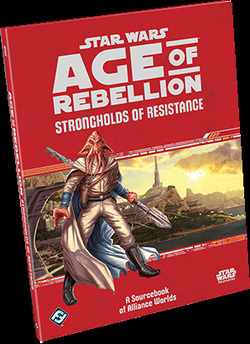 Grand Moff Tarkin isn't the only one looking it either! However, at last, you can get your hands on
Strongholds of Resistance
sourcebook and answer that question.
It would be a mistake to believe that the Rebellion is simply the base at Yavin or Hoth. Hence the plural title of Strongholds, expect to delve into the secrets of rebel bases on Mon Cala, Kinyen, and Sullust. Along with additional data on other planets, like the jungle-covered Thyferra (source of the critical material of bacta) and the trading/manufacturing center of Ord Gimmell.
New PC races of Polis Massans, Quarren, and Verpine are detailed along with new weapons, droids and my favorite...ships!
You can order your copy from
Fantasy Flight Games
or swing by your FLGS today, it retails for $39.95.