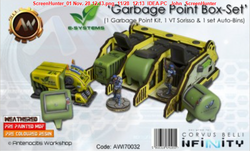 Antenocitis Workshop
wants to clean up your Infinity wargame city and with their newly released
E-Systems Garbage Point Boxset
that is exactly what they will do. This box set contains the E-Systems Garbage Point, think of that as your trash hub. A centralized disposal point, fully automated completely with a compactor and dedicated garbage container at the rear.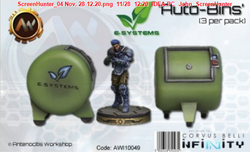 Of course, first you have to collect the garbage and that is where the
E-Systems Auto-Bins
come in. These motorized wheelie bins are equipped with sensors to determine when it is time for them to head off to their local E-Systems Garbage Point, for emptying, after which they return to their original location.
You can purchase additional Auto-Bins separately, £7.50 ($11.27).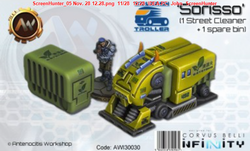 Sadly, even in the illuminated future not everyone is civilized enough to toss their rubbish into the proper receptacle. The
VT-Sorisso Automated Road Sweeper
is designed to keep are cities clean and beautiful. These robotic road sweepers will cycle a given area, emptying itself when needed at the local "Garbage Point".
Again, you can purchase additional sweepers for £7.50 ($11.27).