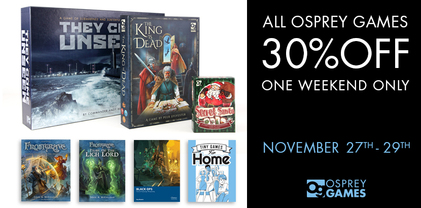 So you have held off on picking up one of those
Osprey Games
, for whatever reason you just couldn't justify it. Well, Osprey seems to understand but they just aren't going to make it easy on you to keep saying not now. This weekend they are offering 30% off of all their games! You can even get the discount on a pre-order copy of Dragon Rampant!
Maybe it is Bolt Action or Force on Force?
Field of Glory or Frostgrave?
It really doesn't matter as it is hard to imagine getting a better discount than this! Be it print or ebook, Osprey Games has you covered.

Press Release from
Osprey Games
.
Coming in October 2016, Osprey Games will be releasing the 75th Anniversary Edition of Escape From Colditz! Designed by Pat Reid, a British officer who escaped from the Colditz prisoner-of-war camp during World War II, and Brian Degas, writer of the iconic TV series based on Pat's escape, it is often named as one of the greatest board games in British history.
This edition, published to coincide with the 75th anniversary of Pat Reid's escape, will feature completely new art-
work painted by fan-favourite historical artist, Peter Dennis. Along with a complete set of wooden pieces, the box will include replicas of prisoner-of-war artefacts from Mr. Degas' extensive collection!
Duncan Molloy, Osprey Games Developer, said: One of my main goals since joining Osprey Games was to bring this game back into print. It's not just an iconic piece of game design, but an important touchstone in the history of British games and toys. I've been working closely with the original designer, Brian Degas, to ensure that this is the definitive edition of the game.
Philip Smith, Osprey Games Manager, added: Osprey Publishing has been creating highly illustrated military history books for four decades. The chance to bring all of that expertise to bear on one of the best-loved and most-respected military-themed board games is too good an opportunity to miss.
Escape from Colditz, 75th Anniversary Edition will be published October 2016 and retail for £49.99 / $65.00.