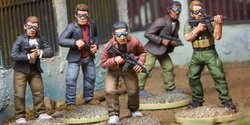 Specter Miniatures
has opened up a new collection,
Undercover Operators
. There are those occasions where subtlety is the better option than rolling in with the Stryker. For those occasion Specter has you covered with their Undercover Operator SMG - Alfa, Undercover Operators - Alfa and Bravo.
As a side note, if you really hate painting eyes, these guys come equipped with shades to simplify your painting schedule!