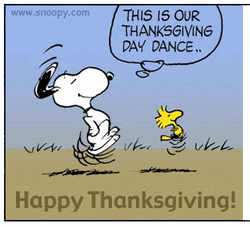 First off, I want to wish everyone Happy Thanksgiving!



Got the turkey in the electric smoker, set to 225° F, with the soaked cherry wood chips and it is well on its way. Going to be a great day for it here in the New York Fingerlakes, no rain and around 56° F (which makes smoking a turkey that much easier). We started the Middle Earth Marathon last night, with An Unexpected Journey (Extended Edition) and will be continuing on today!



Of all the things that I am thankful for and there are many, my wife Susan, is number one. That may sound trite but over the last year and a half during my illness she has definitely gone above and beyond the call of duty!



46 days into the MacAttack001.com website and I am pleased to report that the number of visitors has been rapidly increasing along with bandwidth and visitor retention. Top countries in terms of bandwidth United States, Netherlands, Brazil, Canada, Great Britain. A special shout out to that one individual from the Ukraine that keeps stopping by!



This journey has been quite the learning experience, a far larger learning curve than I originally had envisioned. The big take away for me, is that this sort of effort is a marathon not a sprint. While I am sorting out SEO and deciphering how to earn Google's trust, additional content has to be created. Gaming News right now is the biggest draw, mainly because it is being updated daily. However, the number of outbound links and the text to code ratio is not perhaps optimal for SEO. Bearing that in mind, I am going to be finishing up a rather meaty bit of content for the Pathfinder RPG specifically for Dungeon Masters. Teasing just a bit more, it currently has a page count of 281 in PDF form. At this point there is no art, I am going to be adding some black and white art.



How much art is there going to be?



Definitely, the cover, which is going to have to be something above and beyond. I want some additional art just not sure how much.



Another addition is going to be a Terrain section that will include a Gallery and Tutorials. Speaking on the subject Terrain Tutorials, if there is something particular that you want to see covered (i.e. scratch built trees, creating rock face for your hills, etc.), cast your vote in the comments or email me if you are shy.



An announcement from
Spectre Miniatures Facebook
page.
So.... We have an announcement. The rules development is going really well, but in order to make them as good as we possibly can do.... They will not be released by Christmas. We apologise for this, but have some seriously good stuff coming out that we think is well worth the wait..... Not long now!
What we are able to announce that we will produce a full rules set that is modern, clear, easy to play, realistic and fast moving.
It will be available online, and in high qu
...
ality hard copy.
And the best news is, we need playtesters now. These playtesters will be selected on merit, and will receive an electronic copy of the rules to test and give feedback on.
Those selected will be asked to provide feedback by a certain deadline (probably early Jan). Those who provide the feedback will then receive an exclusive, limited edition miniature that will be part of an amazing new range being released in the new year, as well as a horde of amazing other goodies for doing Sterling work. (see what we did there...)
To be considered, please message the Spectre FB account with details, reasons and extent of the playtesting you can and are willing to do.... And don't worry, we need the tiny, and the grand, the experienced and the new gamers, clubs and individuals.
Hit us up with comments and ideas below, and message us with your playtesting ideas and capabilities.
Yours,
The Spectre Team.