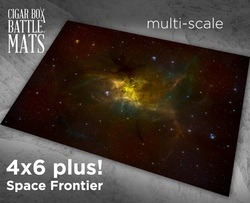 Cigar Box Battle Mats
has two new battle mats for your gaming tables. Space Frontier and City Fight! While I opted to picture the 4x6 version of the Space Frontier mat, it is available in 3x3. All of their mats are made from durable fleece.
With the popularity of Star Wars X-Wing, Armada and it looks like Dropfleet Commander as well, the less busy design of the Space Frontier mat is a great fit for these games. It certainly is in the price zone with the 4x6 at $69 USD, you can even have them add hexes (1", 2", 3" or 4") for free!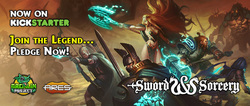 With only 10 days to go the Kickstarter of
Sword & Sorcery
(designed by Gremlin Project and distributed by
Ares Games
) has 3,001 and $332,501 pledged (as of publication time). Some of the features of the game...
Solo Play: A single player can control two or more heroes and play the entire campaign.
Character Customization: 10 classes, 7 Soul Ranks per hero, 50 different hero powers, more than 100 items (weapons, magic artifacts, and soul weapons).
Combat & Magic System: This system is based on two types of custom 10-sided dice and an intuitive cooldown management of spells and skills creating spectacular fights. No need to worry about numbers or consulting tables, just icons and quick strategic decisions.
Modular Boards: Each map tile is double sided and created to be interconnected with any other tile, allowing the creation of many new quests.
90 Minute Experience: Quests are designed to be completed in about 90 minutes or less.
The Kickstarter version comes with additional material that will not be available in the retail version so you may want to swing by and check it out while you still have time!