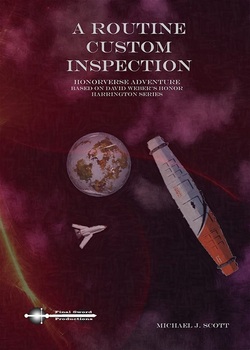 Available now at RPGnow...
"
A Routine Customs Inspection
" is an into adventure for the new Honorverse Role Play Setting using the D6 Epic game engine. The setting is based off of David Weber's Honor Harrington series published by Baen Books.
You take on the role of a member of the Manticoran Navy, currently assigned to anti-piracy duty...what could go wrong?
Clocking in at 36 pages, written by Michael J. Scott, art by Sam Pray and currently priced at $6. This product contains the adventure (designed for up to 8 characters), character sheets and the D6 Epic Quickstart rules.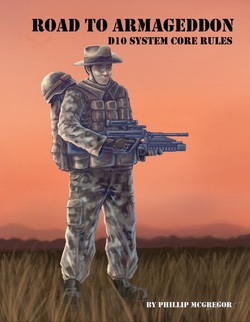 Also available at RPGnow...
"
Road to Armageddon: Core Rules
" The world balances on a knife's edge, the West faces off against the Russo-Japanese alliance and the New Jihad in the Islamic States.
Designed by Space Opera co-author, Phillip McGregor, art by Ricky Martin, published by Phalanx Games Design, this PDF weighs in at 180 pages, currently priced at $20.
In addition to this book you will also need
Road to Armageddon Gear Book
and the GM will need the
Modern Encounters Book
.
A Print on Demand version is in the works, anyone who purchases the PDF version prior to the release of the PoD version will receive a coupon for the latter at a discount over the normal PoD price.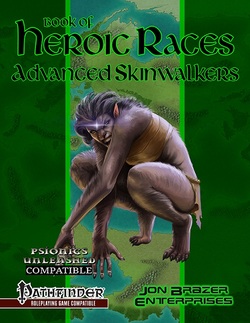 Seems like I am not done with RPGnow...
Book of Heroic Races: Advanced Skinwalkers
for the Pathfinder RPG, provides everything that you need to play a skinwalker.
Standard Racial traits for a skinwalker, alternate racial trait, and 3 new character traits. 17 new character class options with 4 new archetypes (i.e. beastwalker druid and kinetic assailant soulknife). 7 new Feats to expand on shapeshifting abilities. 6 new shapeshifter-themed spells, 4 new magic items, 3 new deities!
At 22 pages you know it is packed with plenty of crunch and priced to move at $3.95!