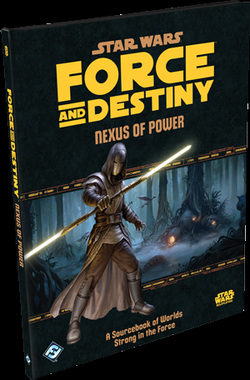 Fantasy Flight Games
announce
'Nexus of Power'
...
"A tangle of tree roots in the swamps of Dagobah. Labyrinthine crystal caves beneath the surface of Ilum. Ancient ruins in the north of Lothal. The towering pillars of the Jedi Temple on Corsuscant. These scattered sites have in common a prodigiously strong connection with the Force, which has made them hallowed to the Jedi and now largely forbidden under the Empire. But to those who dare to visit them, they offer shocking epiphanies, difficult trials, mystical knowledge, and valuable artifacts."
Now you can "visit these iconic places and many more. Its 144 stunningly illustrated pages provide lavish details on places strong with the Force, such as Dagobah's tree cave and worlds with rich Force traditions, such as Bardotta. Eight modular encounters provide Game Masters ready-made gateways into these locations that can be used as single-session adventures or launching points for entire campaigns. Players will find new playable species, vehicles, and gear, as well as plentiful resources for crafting Force sensitive characters with rich backgrounds and distinctive personalities."
Worlds Strong with the Force "Among the galaxy's millions of planets only a scant few resonate with the Force. Twelve of these rare worlds are opened up in
Nexus of Power
."
Temples and Wellsprings "A vergence is a place where the Force concentrates like a whirlpool in a flowing river. That place may be a small cave or an entire planet where light and dark constantly vie for surpremacy. Many Jedi temples, including the one on Coruscant, are built atop vergences that lie deep in the earth."
New Species "The Force manifests itself among different cultures and species in different ways. The four playable species found in
Nexus of Power
exemplify that."
They state that Nexus of Power will be available in the first quarter of 2015...I think they mean 2016.