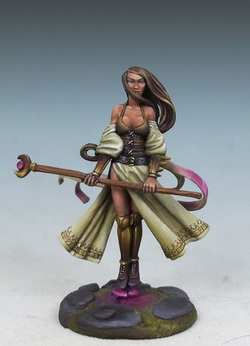 Dark Sword Miniatures
has just released 19 new figures of the Tony DiTerlizzi Masterwork series. I have long been impressed with Dark Sword's miniatures and certainly have purchased more than my fair share of them. Out of this newest batch, excluding the two furries (simply not a fan of those in general), I can envision adding more than a couple of these to my collection.
I have to say that I was pleasantly surprised to see that Jen Haley had painted up the Harvester of Souls. Jen had dropped out of sight, closing her online portfolio Paintrix. Hopefully she will continue doing consignment work so we can enjoy her art.