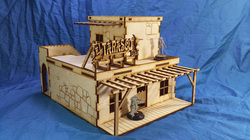 If you close your eyes and let your mind drift, you can almost smell that distinctive aroma of stale beer, cheap cigars, saddle leather and trail dust.
"Welcome to the
El Tarasco Bar
. You know how there are those places just outside of town for a reason. This is one of them. This kit was part of the Santo Poco set of adobe buildings. This building includes a movable partition wall on the first level and a L shaped bar. The second floor/roof area is accessible by an external staircase. The building ships with 3 different signs, El Tarasco Bar, The Last Draw and The Lazy Ace. You can also custom order a name to fit your game table."
Be sure to check it out at
Burn In Designs
!