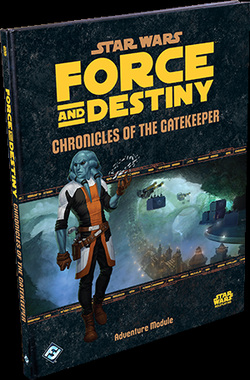 I sense a disturbance in my bank account balance...
"Discover a holocron that promises unprecedented power. Follow in the footsteps of a Jedi Knight with a mysterious, galaxy-wide legacy. Explore a metropolis rent apart by lingering wounds from the Clone Wars. Delve into the Empire's darkest secrets."
"If you're using
Chronicles of the Gatekeeper
to launch a campaign, you
might
even put together a mixed party of Force users, Smugglers, and Rebels. Each PC will experience the journey in a different way, make choices based on a unique Obligation, Duty, or Morality, and conclude the adventure with a different next step in mind."
What you mean that Edge of the Empire, Age of Rebellion and Force and Destiny are NOT three separate games??? That ladies and gentlemen was either a Freudian Slip or the smoking blaster. Of course, we are mere weeks from the release of
Star Wars: The Force Awakens
so
Fantasy Flight Games
may no longer feel the need to keep up that particular pretense.
Still, it is Star Wars so Fantasy Flight is relatively certain that we are going to pony up the money for what looks to be an interesting adventure.